Play Free Bingo Online
Players can find several online bingo sites on the Internet, where they receive bingo bonus offers and generous jackpots after depositing funds. However, are there any sites out there that cater to only free bingo games?
Most sites that offer free bingo also offer players to deposit funds into their accounts, as for those that are strictly free are few and far between. Online bingo rooms, which offer free games give the member a chance to explore their website and everything it has to offer. Some of these sites include: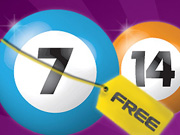 The online bingo rooms mentioned above give you free money to try out their sites, or what they consider a trial play at their website. Free money is awarded after a new player signs up for a membership to their website. Once that money is used up, then players will get a first deposit bonus when they fund their online bingo accounts.
There are a few online bingo rooms that I came across, which offers their players totally free bingo games, frequently offer prizes such as gift certificates to popular stores and restaurants.
Where to Play Free Online Bingo
Now that you are reading with anticipation, your first question is where the free to play online bingo rooms on the Internet are. Since you all have waited so patiently, here is my list of totally free bingo rooms to check out:
USA Bingo (US Players Accepted)
Bingo.com (Not Available for US Players)
Bingo Mania (US Players Accepted)
Wow Bingo (Not Available for US Players)
Desperate Housewives Bingo (US Players Accepted)
Free bingo sites work by either gathering points or play dollars to purchase each card. The same rules apply when you play at bingo rooms that take deposits. The big differences between free trial bingo rooms and free bingo rooms is that some free rooms will pay cash in certain e-Wallet accounts ,you receive a gift certificate or win a prize.
The free bingo rooms are a great resource for those who would like to learn how to play bingo or want to practice their strategy and win some of the larger jackpots at other rooms. The reason, free and free to try bingo rooms allow players to get a better feel for the game and website. It allows each customer to see for themselves if the site or game is the right fit for them, while having a blast playing their favorite game. Either way, nobody can beat a free bingo room, whether it's a trial or free for everyone.